I once dated a Mint Chocolate. I married a Chocolate Almond.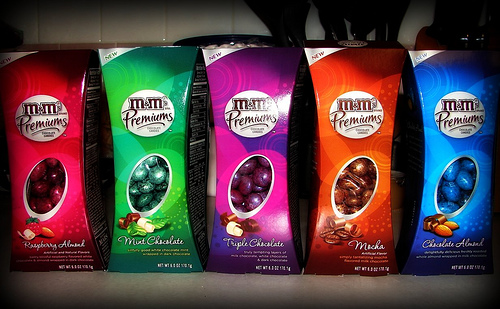 A few weeks back, I received an e-mail from BlogHer asking if I would be interested in writing some paid product reviews.
Of course I'm interested! Because: I get to try new stuff, I get to write about it, and I get paid! Those are three of my favorite things!
Full disclosure: I get to choose what I review and I'm under no obligation to give a Thumbs Up. In other words, I'm not going to be all, "MMmmmmmm! I love wasabi rubbed turkey jerky! Go get some or you're not my friend!"
Last week I received a shipment of M&M's Premiums.
The shipment arrived at The Perfect Time—less than twelve hours before Jeff was scheduled to leave on a five day business trip.
Normally when Jeff leaves town, I play with liquid eyeliner and check my tights for snags after putting the kids to bed.
The idea of spending five nights on the couch with five flavors of M&M's?
Yeah. In my world, it never really gets more fabulous than that.
The First Night: Triple Chocolate
Because I'm not very good at sharing, I put the kids to bed before emptying the Triple Chocolate M&M's Premiums into a bowl and plopping down onto the couch. Okay. This is going to sound weird, but when I really *looked* at the Triple Chocolate M&Ms, I was instantly reminded of a girl from my university days. She had a shaved head and a tattoo on the back of her neck. Her fingernails were always painted the exact shade of purple that covers the Triple Chocolate M&Ms. But enough about her. Let's talk flavor. The M&M's Premiums outer shell isn't your typical M&M's outer shell. It's not crunchy. It's soft and perfect. And under the shell is a layer of dark chocolate. And then there's a layer of white chocolate. In the center? Really smooth milk chocolate. If Triple Chocolate M&M's Premiums could be personified, they would be that really awesome girl (maybe with a shaved head and purple fingernails) who sings and plays guitar at your favorite diner on the weekends. Her voice is totally smooth and her jeans are a little frayed, and because you have an empty seat at your table, she comes over and sits next to you on her break. And you feel like you've known her for years, because she listens to the same bands as you. And she loves Dorothy Parker. (And although she admits that her guilty pleasure is watching Rob Lowe movies, you don't judge her. In fact, you rent Oxford Blues on your way home from brunch. Because the human version of Triple Chocolate M&M's Premiums? She's a keeper.)

The Second Night: Chocolate Almond
I poured the Chocolate Almond M&M's Premiums into a bowl just in time to enjoy The Soup with Joel McHale. AND, you might think this sounds weird, but they were the perfect Soup companion. Because they're nutty?! No. (I'm not that transparent, am I?) Wait. Do you mind if I do the personification thing again? Because that was sort of fun. Let's see. The humanized version of Chocolate Almond M&M's Premiums? A guy with a bit of a hunched posture who wears khaki pants and plaid shirts every day. You don't really think much about him, until you hear him talking to the woman in the next cube. He's the perfect blend of smart and quirky. He knows how to fix a computer glitch, he knows how to employ The Perfect Amount of Sarcasm, and he does the New York Times Crossword Puzzle in pen. Chocolate Almond M&M's Premiums are sort of like Jim Halpert from The Office. You don't know why, but you really sort of dig him. And you don't ever want him to leave. (Because he likes Miles Davis AND Parliament.)

The Third Night: Mocha
Okay. I'm not a fan of foods that are coffee flavored. In other words, this is the one flavor of M&M's Premiums that I wasn't really looking forward to trying. Sadly, the copy on the box is spot on: Marvelous mocha meets milk chocolate, destinies collide. If you like the taste of mocha in a non-liquid form, you will fall in love with these. Since I'm not, I didn't. To me, Mocha M&M's Premiums are the girl you admire from afar, because she's got really great hair and she wears Fluevogs. When you get to know her better, you discover that she won't eat vegetables unless they're blended into a smoothie. And in your opinion, that's a bit unpalatable. And at this point in your life, you can't really deal with it. But you know that someone out there is totally going to Get Her. And they'll be so happy together as long as they both shall live. (Just so you know, when I put the Mocha M&M's Premiums into the fridge and ate them cold with a glass of skim milk? They weren't half bad.)

The Fourth Night: Raspberry Almond
So, here is the product description: "This combination of raspberry, with white and dark chocolate – not random, just serendipity." Do you know how much I love raspberries? I once ate a deep-fried ham and cheese sandwich after sprinkling powdered sugar over the top and dipping the whole thing into raspberry preserves. That sandwich weighed 38 pounds, and I loved every bit of it. Why? Because it had that raspberry thing going on. Raspberry Almond M&M's Premiums? She is your goofy best friend who loves hanging out and cracking wise when you're in that sort of mood. She drinks Flying Dog beer simply because she's a fan of Ralph Steadman drawings. She looks a bit like Amélie, she gets a kick out of vintage teacups, and she always has the perfect book recommendation. (She can utter James Thurber quotes with no effort.) Don't call her on Wednesdays. That's her roller derby night. Raspberry Almond M&M's Premiums is the flavor I want to be.
The Fifth Night: Mint Chocolate
When you're dog tired at the end of a really hectic day, you want to hang out with a guy who isn't in the mood to stir things up. Mint Chocolate M&M's Premiums is just that guy. (You really can't go wrong when you're blending mint white chocolate with dark chocolate, can you? In my opinion, you can't. I wanted to blend these things into a shake and then bake them into cookies. The options? Endless.) The humanized version of Mint Chocolate M&M's Premiums goes out and rents your favorite movie and grabs a bottle of wine while you take a long relaxing bath. He then lounges around with you and covers you with a blanket when you nod off. He leaves a note that says, "I'll call you in the morning" before he makes a quiet exit. Best of all? He really does call you in the morning. (And then you go to that diner where Triple Chocolate is playing the guitar. Worlds are colliding!) Mint Chocolate M&M's Premiums are the guy you fall for a bit too quickly. But it's okay. You've always been a good judge of character, and guys like this don't come along very often.
M&M's Premiums Final Impressions? These things are smooth. Unlike the plain and peanut M&Ms that we all grew up with, you don't really want to grab a handful of the Premiums and throw them into your yap. You want to enjoy them. (AND, you want to decorate with them. Because they're really pretty. As a matter of fact, I'm already planning on sticking bowls of the mint and the raspberry ones around the house during the holiday season.) I'll definitely be keeping these in mind when it's time to buy candy. (3:20! Time to buy candy! 8:00! Time to buy candy! 10:24! Time to buy candy!)
(Oh! If you're interested in reading what others have to say about the M&M's Premiums, head over here!)