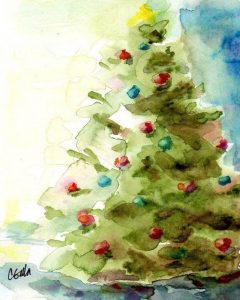 I have no idea who painted this tree, but I love it so much. CGilla? CGNA? CGala? is probably sitting outside on a bench and it's snowing and they are drinking a hot something or other and maybe they need a hat, and what they don't know is that I'm sitting over here at a big wooden table drinking a hot something or other and I'm definitely willing to make that hat. Take the joy and return the joy and spread light in the darkness because recognition and fame come to those who find a human leg in the smoker.
Speaking of taking the joy, I took my laptop to a coffee dump last week to get a little work done before meeting a friend. When I pulled into the lot, my friend texted to tell me that she pre-ordered my drink and that it would be waiting for me.
This is a dark chocolate mint martini, and it was made at one of my very favorite places. And that place is closing on December 29th. When I asked the bartender why the place is going from a restaurant/bar to a coffee/juice place, he said, "Well, the owner hooked up with a bone broth guy." and that is now one of my favorite sentences.
This is the bar now. When it reopens, all of the hipsters (not pictured) will be replaced with bone broth-ers. Brothers. Brotheurs.
Another one of my other favorite sentences:
"The only difference between everybody and nobody is all the shoes."