Our winter drumline competed in Indianapolis over the weekend and Jeff and I couldn't make it, so we grabbed a quick subscription to FloMarching to watch the competition live.
Watching the competition from the couch didn't even come close to seeing it from Franklin Central High School, but if I HAD gone to Indianapolis, I wouldn't have seen this.
This is Matrix Open from Ohio. They were very good. (Most of the groups we saw were very good. Go get yourself to an indoor percussion competition.) Anyway, do you see those U mirror props? I was so jazzed at the thought of those mirrors being rolled and centered between the F and the C at Franklin Central. Alas. They did not move. UNTIL THEY DID.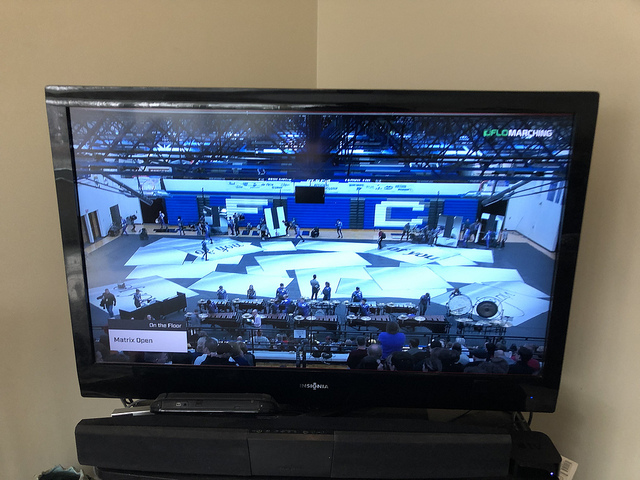 It was brief, but it was SO thrilling. For me. Only for me. I squealed and jumped up from the couch because I'm ridiculous, and it made up for not being there by about 23%.
Have you guys been following the news about the rich folks who are paying people to take the ACT and SAT for their kids to get them into pricey colleges? I lived through that game 30 years ago when a mom strong-armed me into taking the ACT for her kid so she could get into the College of Education at our university. In other words, what I'm living right now may be predicting the superstar games of 2050.
In the year 2050, Felicity Huffman will be reading a book about psychedelic drugs and saving a neighbor's dog, for which she will be paid in Girl Scout Cookies.
(I helped my down-the-street neighbor's muddy limpy dog get back home on Sunday morning. The fence had blown down and Snoopy had escaped. Two hours later? That neighbor showed up with two boxes of Girl Scout Cookies and I think to myself What A Wonderful World.)