Because I had a lot of work to do today, I jumped onto Facebook to see what's up with some of the people I like and some of the people I don't like. (Don't ever fret. I like you. Obviously.) I'm scrolling, I'm scrolling, I'm scrolling, and then: Holy shit.
For the first time EVER since I've been on Facebook, an ad popped up that I didn't feel the need to report as inappropriate (sportswear!) or uninteresting (weight loss stuff!). AND, as much as I hate it when people say things like "I felt seen": The ad for the following items made me feel SEEN.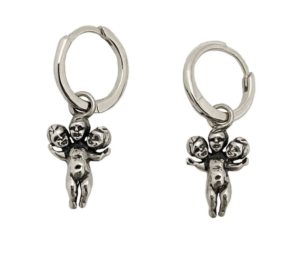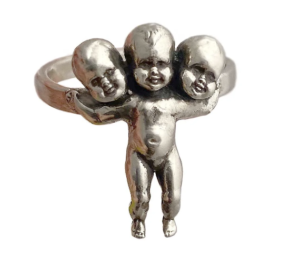 There is a jewelry designer who makes triple-headed baby earrings and triple-headed baby rings, and I can't remember the last time I was this excited. About anything. (I'm exaggerating a little. The John Irving book pictured in my sidebar? I ordered it something like eight months in advance and it is not disappointing me at all.)
This is exactly what I would look like if I had a pair of triple-headed baby earrings.


(The drawing also shows me wearing the ring, but I'm hiding it behind my back. I can hide so many things back there.) I mean, does this warrant a GoFundMe campaign?